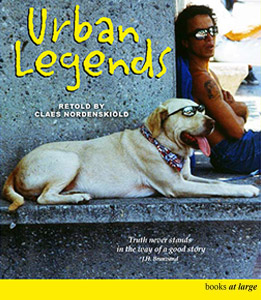 URBAN LEGENDS
Urban Legends are crazy stories that a friend-of-a-friend may claim to have experienced, heard or read. The background may be true, but details have often been changed. Things don't have to be true, maybe shouldn't even be true, just somewhat believable, entertaining and funny. The rule of thumb is that:
Truth never stands in the way of a good story.
Read, smile, laugh and be inspired!
The book is also ideal for teaching, to motivate verbal and written exercises and increase vocabulary.
Best Regards,
Claes Nordenskiöld

Claes Nordenskiöld dug up these stories, rewrote them, added bits and excluded others, turned and twisted. He also took most of the photographs.
He runs at large, a company located in Stockholm, Sweden as well as in Launiupoko, Maui.
Läs några berättelser ur Urban Legends (pdf)
Ordlistor (engelska till svenska) (pdf)